Carpet has come a long way in the last 10 years.
Today's carpet offers you some amazing choices in style, texture, construction, color and pattern.

You can now choose a carpet that meets any decorating need and still fit it into your budget.
Read on to find out more about carpet and educate yourself to make a wise choice. We can also assist you when you visit us. You'll get the best selection and the best quality at a reasonable price.
How to Choose Carpet
STYLE:  The carpet you choose for your home reflects your personal style and your practical requirements just as much as the clothes you wear. Choose a style or construction of carpet that appeals to your personal taste and suits your lifestyle.
COLOR:  Carpet comes in many colors, including solids, tonals, and accents. Making a selection can seem overwhelming, but it doesn't have to be. If you're not comfortable selecting color, many CarpetsPlus retailers have expert designers on staff to help in coordinating colors that enhance the design of your room. You can also go the safe route and choose a neutral beige or gray. If you're planning on selling your home, this might be the way to go.
FIBER:  To make the right fiber choice, it's important to consider some simple questions:  Do you have children or pets? Will your carpet be in a high traffic area? Will it be exposed to direct sunlight? Will it be near an entrance from the outdoors? The ideal carpet for you is one that appeals to you visually, and is also durable enough for your lifestyle.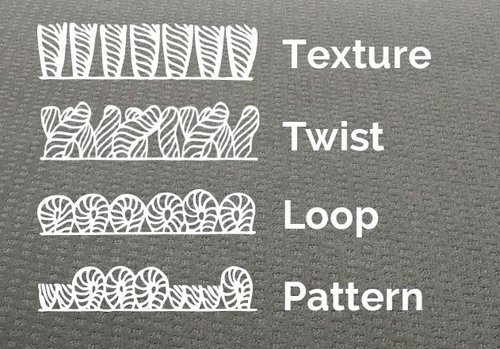 STYLES OF CARPET
TEXTURE:  The most popular style of carpet. Slightly twisted fibers create a textured surface with traditional styling that's perfect for any casual room. Textured cut pile carpet performs well in high traffic areas and is available in a wide range of colors.
TWIST:  Tightly twisted fibers create a curled surface with contemporary styling. Twists provide resilience and comfort for active spaces and are less likely to show footprints or vacuum marks than any other style of carpet. A distinctive and upscale look for bedrooms and family rooms.
LOOP:  Often referred to as "berbers," loop pile carpets have a continuous, uncut surface that wears well in high traffic areas. Durable yet comfortable, loop piles are perfect for casual spaces with lots of activity like family rooms, dens and play rooms.
PATTERN:  Unique and expressive, patterned carpets use cut and loop pile combinations to create a sculpted look. Available in organic, trellis and geometric designs, this carpet can evoke a dramatic feeling of style in bedrooms and living rooms.
Use of Color
Neutral colors are the easiest to decorate with and can give a room a spacious, airy look. While beiges are the most popular, neutral colors have expanded into other color families such as grays, pale greens, sun-washed yellows, lilac and sky blue.
If you want a bolder statement, use a more dramatic color to add flair and create an upbeat and sophisticated room. To achieve this look. Identify a common accent color in your decor, and then find a coordinating carpet color.
As a basic rule, warm colors can add comfort to a room that lacks light, while cool greens and blues can bring a calming ambiance.
Lighter colors can make a room seem larger, while darker colors can often make it more intimate and cozy. Darker colors and accents also help disguise common soil in high traffic areas.
Carpet Fiber Comparisons
NYLON:  It is the most versatile of all fibers, providing exceptional softness and excellent flexibility in creating a wide variety of carpet styles. Nylon is also the most durable and resilient carpet fiber available. Though not inherently stain resistant, most nylon carpets include a stain-resistant carpet treatment like R2X or Scotchgard. Also, some nylons are solution dyed, which means the color goes throughout the fiber so it enhances fade and stain resistance.
TRIEXTA:  Combining the resilience of nylon and the stain resistance of polyester, Triexta provides excellent performance and value. It is also exceptionally soft and offers a wide array of styles and design options.
POLYESTER:  While not quite as durable as nylon, polyester has improved greatly the last few years, offers exceptional color clarity, is naturally stain and fade resistant. Polyester carpet offers the best value in floor covering. Also, some polyesters are solution dyed, which means the color goes throughout the fiber so it enhances fade and stain resistance.
POLYPROPYLENE:  Polypropylene offers excellent resistance to fading and is inherently stain resistant – useful in rooms with direct sunlight. This fiber is not used much anymore except in indoor/outdoor rugs and some carpet.
NATURAL FIBERS:  Wall-to-wall carpet and area rugs are also available in a variety of natural fibers. Wool, sisal, sea grass, and jute are all sourced from renewable resources and provide excellent options in sustainable floor covering.
Carpet Performance
Your carpet will provide you with years of beauty and performance. The performance of your carpet will be determined by several factors:
Performance Rating: The performance rating will let you know if a particular product is suited for the wear expectations of a particular room.
Proper Cushioning: A good cushion (pad) will act as a shock absorber and transfer weight and wear from the carpet to the pad. This will extend the life of your carpet. Ask your sales associate or see manufacturer pad requirements for the correct pad.
Construction: Fiber, density of yarn, yarn twists, etc. will all affect the performance of your carpet. All of these factors will impact the durability of the carpet as well as its look.
Carpet Care
Your carpet purchase will enhance the value and beauty of your home for years to come if properly maintained.  Here are some basic care recommendations:
Vacuum Frequently: Frequent vacuuming is the key to the longevity of your carpet.
Carpet Cleaning: Routine vacuuming will not remove all the dirt and particles from the carpet. We recommend an annual cleaning by a professional to properly protect your investment. Many carpet mills require a professional cleaning every 12-24 months to maintain the warranty.
Stain Removal: Remove all stains as quickly as possible. Make sure to follow the manufacturer's directions for stain removal. Also refer to the Carpet & Rug Institute's Stain Removal Guide for instructions on removing stains quickly and correctly.
Proper Cushioning: A good cushion (pad) will act as a shock absorber and transfer weight and wear from the carpet to the pad. This will extend the life of your carpet. Always use a pad specified by the manufacturer.