The Style and Benefits of Hardwood Flooring
Hardwood floors add timeless beauty and warmth to your home.

They say this is my home, not just another house. They are a reflection of who you are and your style. They are welcoming and inviting and can complement any décor. Hardwood flooring will not only add value to your home but may last as long as your home itself. The finishes on hardwood flooring have improved dramatically. No longer do you need to wax them periodically. Typically, today's hardwood floors offer numerous coats of durable urethane sealers that are hard and scratch-resistant.
There are now many different species of wood to choose from, not just North American woods but exotics from all over the world. This variety of colors allow you to create a look that is uniquely yours.
Durable, timeless, warm, low maintenance and, an endless choice of styles and colors make hardwood floors a great choice for your home. This variety and the variety of colors allow you to create a look that is uniquely yours and at a price you can afford.
Durable, timeless, warm, low maintenance, and an endless choice of styles and colors make hardwood floors a great choice for your home.
HARDWOOD PERFORMANCE
Hardwood floors are extremely durable and will last a lifetime if you choose the right product for your lifestyle. Your CarpetsPlus COLORTILE flooring expert will guide you to the right choice if you share information about what room you are planning to install the floor in, do you have kids or pets, etc.
Pre-finished or manufacturer-finished, hardwood floors typically offer 6-10 layers of UV cured layers of polyurethane which is very hard and tough. Many manufacturers are now adding Aluminum Oxide to the urethane for additional protection against abrasion and wear. There are several other proprietary technologies available that offer added protection against wear and abrasion. Again, ask your flooring expert to explain the difference. Site-finished hardwoods are also extremely durable, although not quite as much as those finished at the factory.
Finally, the hardness of the wood you choose will also affect its performance. A softer wood like pine is more likely to dent than a hardwood like oak.
To sum it up, hardwood floors are one of the most durable, long-lasting products you can put in your home.
HARDWOOD CONSTRUCTION
There are three types of construction in hardwood flooring, solid, engineered and now hybrid.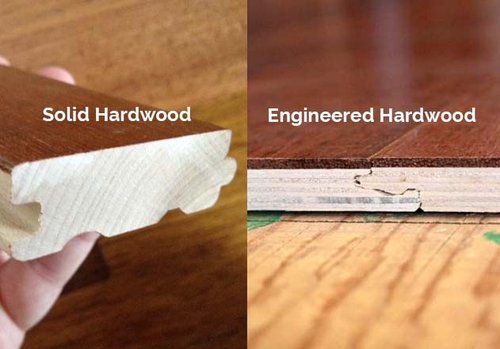 Solid hardwood is 100% solid wood, it can be nailed or stapled to a wooden subfloor above grade. It is not recommended for installation on concrete because it is susceptible to expansion in high moisture areas and will shrink in high temps and high heat applications.
Engineered hardwood is also 100% wood that is manufactured from 3, 5 or 7 thin sheets or plies of wood that are stacked on top of each other in opposite directions then glued with high pressure. This process is called Cross-Ply construction that, when finished, makes the product dimensionally stable. The advantage of cross-ply construction is it will not warp in high moisture conditions or shrink in low humidity or high heat conditions. You can install on or above grade on wood and on concrete subfloors.
Hybrid hardwood floors are similar to engineered hardwood in that they feature a veneer of real wood on top but have either an SPC vinyl core or an HDF core. SPC cores are waterproof and HDF cores can be protected from water from above with finish coatings and good locking systems like UniClic and underlayment below. Both can be installed above, on and below grade.
Edge detail is the way the sides and ends of the planks are cut. They can include beveled, square, eased, and micro bevel. The different edge details will have a dramatic effect on the look of your new floor. For example, if you want the look of a furniture finish, the square edge would give you that look. If you are looking for a more casual effect, a beveled edge would be a good choice.
Hardness is also a factor when determining which species of wood to select for your new floor. With the many different species available today, each has its own rating, which will determine how well the floor will react to wear. The method used here is the Janka Hardness test.
Picking the right species for your new floor is very important for how the floor is going to wear in different traffic conditions.
Hardwood Care
Maintaining your hardwood floors is now easier than ever.  Remember dirt, grit, dust particles, and water are enemies of hardwood floors. Just follow these basic guidelines:
Never wax your floors. Wax will dull the finish.
Sweep regularly with a broom or vacuum with a vacuum that does not have a beater bar or brush. Dirt and grit can cause scratches to the finish.
Doormats provide the first line of defense and prevent dirt and grit from being tracked onto your floors.
Excessive water causes wood to expand and swell and eventually crack. It could also possibly break the glue seal with the subfloor. Wipe up spills quickly. Do not mop with excessive amounts of water.
Only use manufacturer recommended cleaners to clean your floors. Typical household cleaners will dull the finish and reduce the performance of your floors.
Add leg protectors to all furniture.