A laminate floor is a great way to add beauty and warmth to your home while not exceeding the family budget.
The 21st century laminate floor offers an active family a low cost, low maintenance, durable, and beautiful way to decorate their home and enhance their lifestyle. Installation cost is also generally lower because laminate floors can be laid directly over many existing surfaces.
Laminate floors began to migrate from Europe 25 or 30 years ago primarily because of their low cost and ease of installation. The original product was durable and cost effective, but not necessarily a high quality simulation of real wood, tile, or stone.
Today, laminate floor manufacturers take advantage of dramatic technical advances to produce life-like wood, tile and stone designs. In many cases you cannot tell the difference between a laminate and the real thing without close inspection.
Laminate Performance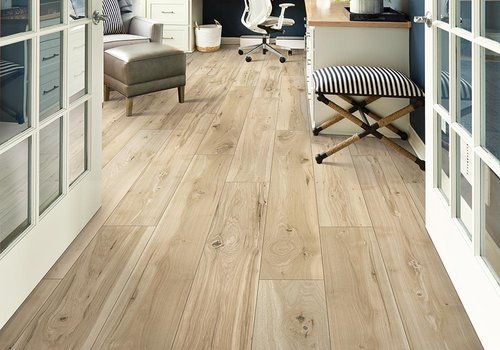 When maintained properly, a laminate floor will provide years of service. The product itself is extremely durable. Coupled with the melamine surface, your floor should withstand most of use and abuse that an active family can do to a floor. Low cost, low maintenance, and a long product life all make laminate floors a great value.
Laminate Construction
Melamine resins are used to create the top wear surface. It's the same technology used to create counter tops and is extremely durable to stains, scratches, burns and sun fade. Laminate flooring is an engineered construction and gives the look of real wood, ceramic tile and stone. The product has levels of wear layers, from 7 – 10 mils. Its thickness can also vary from 7 mm to 12 mm. Laminate flooring can be installed on all grade levels. It also can be used in commercial applications.
Laminate Care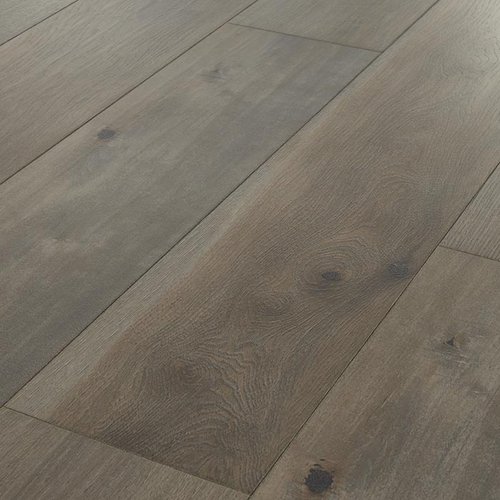 Although very durable, laminate floors are not impervious to dulling and wear. Some simple tips for keeping your floor looking new are:
Frequently sweep or vacuum to remove dirt and grit.
Place mats at outside doors to catch dirt, grit, and oil.
Place protectors under all furniture. Lift; do not slide furniture when moving.
Keep your pets' nails trimmed.
Never wax your floor.
Mop occasionally-avoid excessive water on you floor.
Only clean or remove spots with manufacturer approved products.
New Innovations
HIGH DEFINITION VISUALS
Detailed enough to fool a lumber jack! Some of our new laminate floors feature high definition visuals that mimic the finest wood floors – right down to the bevel. These visuals are truly indistinguishable from actual hardwood – it just costs less and will actually hold up better to pet claws.
EIR EMBOSSED-IN-REGISTER TEXTURE
Many new laminates feature incredibly realistic looks due to the high-definition visuals with EIR embossed-in-register textures that follow the wood grain.
WATERPROOF
The combination of the finish, locking system, edge coating and special molding protect against everyday spills and stains.
RESISTS DENTS, SCRAPES & PET CLAWS
Laminate's tough wear layer provides maximum scratch protection, and resists scuffs and dents that come with active homes with kids and pets. Its dense core protects against dents.
ANTIMICROBIAL PROTECTION
The built-in antimicrobial protection prevents bacteria growth and build-up and makes cleaning effortless. It keeps microorganisms, bacteria, mold, and mildew from growing and neutralizes odors for fresh air and peace of mind.