Tile is a great choice for floors and walls.
Not only is it durable and timeless, but its versatility is beyond compare.

When looking to make the ultimate statement in your own home, the use of tile is the natural choice. The tile category offers endless options which enable you to create a room that shouts, 'this is my style and this is my home.' You can choose from products that include ceramic, porcelain, and glass. Each product has distinctive characteristics and looks, and varies in performance, cost and look. Consult your CarpetsPlus COLORTILE expert about the look you are trying to create and they will help you to design a solution that makes a statement that is all you.

Be sure to ask about the total cost of ownership. The cost of the tile or stone is only one component of the total cost. Installation and maintenance cost can vary and you should be aware of them before making your purchase.
Limitless best describes the design options available to you. You will be delighted with the choices in shape, size, and color, and potential combinations you can create. Tile will let you create your own work of art that is a distinct reflection of you.
Tile performance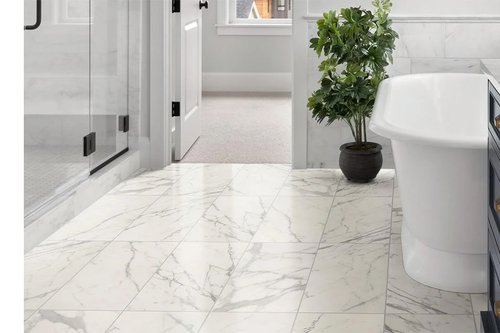 Tile will outlast and outperform most other flooring and wall applications. Individual product performance will vary due to its density, sealant or glaze and how porous it is.

Ceramic and porcelain tile usually have a rating of 1 to 5 for their overall durability and abrasion resistance. Five being the most durable. Check the label to see the rating. Porcelain is denser than ceramic and can many times be used outside in climates where temperatures get below freezing.
Tile construction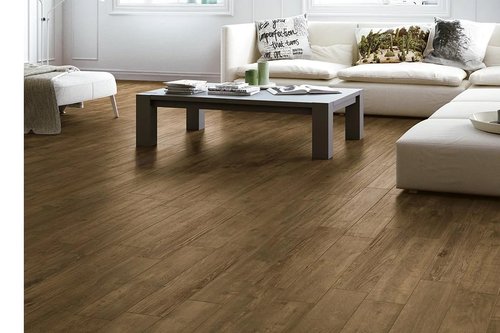 There are many types of tile and stone depending on your needs. There are Glazed Ceramic Tile, Porcelain Tile, Glass Tile, Natural Stone Tiles like Travertine, and even Metal Tile. Tile can be digitally printed to mimic natural stone, fabric, concrete, and wood.

Ceramic is a broad category of clay-based tile. Porcelain is a type of ceramic that produces a denser tile, which makes it more water-resistant and can have greater breaking strength.

Ceramic floor tile is the best choice for cost-effectiveness and to use in areas that won't regularly be exposed to liquids. Porcelain floor tile is the best choice for areas that may see more moisture such as the bathroom. Ceramic is easier to cut, while porcelain requires heavier cutting equipment.

Porcelain tile can be used in many more applications than glazed ceramic can such as indoor, outdoor, floors, walls, backsplashes, showers and heavy commercial installations. They also come in a wide variety of sizes, shapes, and colors.

Glass tile is available in many different shapes, sizes and colors, and can range from opaque to opalescent and in many different textures. Glass tiles are an excellent way to accent many installations such as back splashes, showers and floors. They also come in many different mosaics for use on walls.

Travertine tile is a natural, very porous stone. It needs to be sealed to perform best, especially in showers. It does need to be resealed annually to prevent moisture from getting under the tile.
Tile care
Taking care of your tile floors will provide years of optimum performance. Taking care of tile isn't difficult. Basically you just need to use a cleaner designed for the type of floor you have.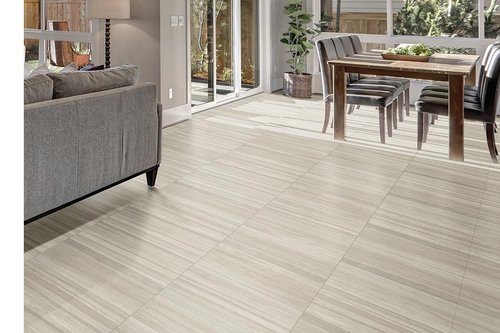 Porcelain
Regular, basic cleaning with warm water and mild soap is sufficient to keep porcelain floors looking good. You can also use gentle, everyday multipurpose spray cleaner to remove soap scum, hard water deposits, and mildew. Do not use cleaning products that contain acids or ammonia (and other harsh chemicals) as these can damage grout and glazed surfaces of the tile.
Ceramic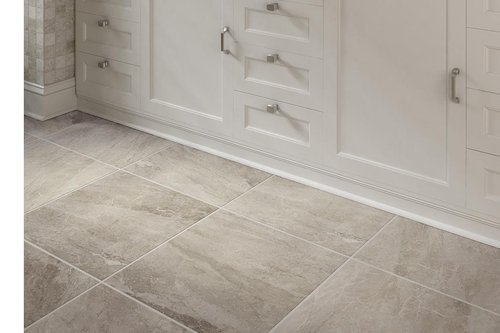 Glazed ceramic tile should be cleaned routinely with an all-purpose, low VOC, household or commercial cleaner. The product chosen should also be grout joint cleaning compatible. The type of product may vary depending on the tile application and use. A multipurpose spray cleaner, which removes soap scum, hard water deposits and mildew designed for everyday use can be used on wall tile areas in residential baths and showers. A cotton mop, cloth, sponge, or non-metallic brush should be used to apply and agitate cleaner. Rinse the area with clean water and dry thoroughly. Routine cleaners should never contain harsh chemicals as these can damage tile. Acids can damage grout and the glazed surface of the tile. Ammonia can discolor grout.

Regular dust mopping, sweeping, or vacuuming is recommended prior to cleaning with liquid products.

Unglazed ceramic tile should be cleaned routinely with concentrated tile cleaners with a neutral pH for safe regular use. These cleaners are better suited for removing grease, oils, and normal spills from unglazed products. Again these products will vary depending on the application, amount of traffic and the use. The product chosen should also be compatible with the grout.