With so many Luxury Vinyl Flooring options, you need an expert to guide you!
With CarpetsPlus COLORTILE, that's exactly what you'll find.

Below. we explain the features and benefits of rigid core vinyl flooring to help you make an educated selection.
Rigid core flooring is what most people think of these days when they consider luxury vinyl flooring that will go in their home or office.
The rigid core category has been around for only about 10 years but its rapid growth and innovations have led to some manufacturers using different names and acronyms, causing some confusion. You may have heard terms like LVT, LVP, LVF, WPC, SPC and Mineral Core but were at a loss as to their meanings. Let's define these terms:
LVT – Luxury Vinyl Tile (may or may not be tile looks because in the beginning this is what people called the entire category)
LVP – Luxury Vinyl Plank (wood looks)
LVF – Luxury Vinyl Flooring (some use this term to refer to the entire category)
EIR – Embossed in Register (the embossing follows the wood grain)
WPC – Wood Plastic Composite Core
SPC – Stone Plastic Composite Core
Mineral Core – Many contain limestone or other minerals
When selecting the right rigid core floor for your customer or client, consider several factors including application and performance expectations in addition to their preference. Some benefits will cross over WPC, Mineral Core, and SPC cores and there will be differences where one will slightly outshine the other.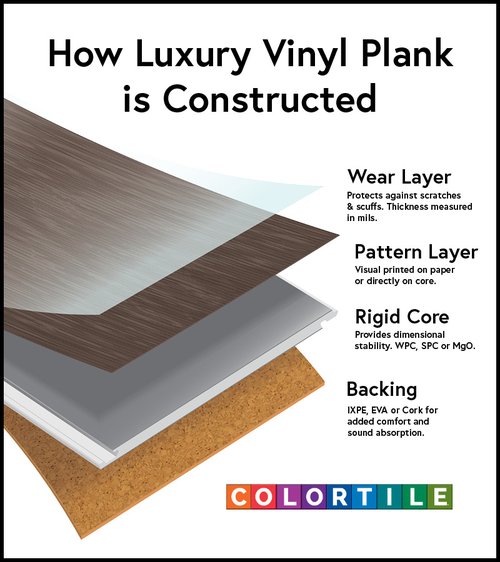 The Core Differences – WPC, SPC, Mineral Core
WPC stands for Wood Plastic Composite. This core was introduced in vinyl flooring form by US Floors around 2012. This core is made of wood dust, plastic and foaming agents. Compared to SPC, WPC is thicker, softer, warmer underfoot and quieter. This softness allows deeper texturing for more realism, but it can be dented slightly easier. It can be installed over many existing floors without telegraphing what's underneath. Most installations are floating; that means they are not glued or stapled to the subfloor. WPC is typically only installed in residential homes.
SPC came next in the evolution of rigid core flooring. It stands for Stone Plastic Composite. SPC's core exchanges the wood of WPC for stone making a harder, more dent resistant floor. The stone in the core is calcium carbonate also known as limestone mixed with plasticizers and PVC. SPC began its life in the commercial market but moved quickly into residential due to the fact it was less expensive and very durable.
Mineral Core got its start in commercial applications but is a relative newcomer in flooring. It's ultra-durable, strong, nearly dent proof and even provides protection against fire. It has a more laminate-like finish that's also very scratch resistant. This type of core contains no plasticizers. It will not warp or shrink and is 100% waterproof. This is a top-of-the-line product available in up to 9" widths and 86" lengths.
Formats – Click, Glue Down, Loose Lay
Click-together luxury vinyl floors are rigid core floors that can be clicked together with a tongue and groove. They aren't all the same and some are better than others. Some locking system names to look for are UniClic, Valinge, Tap-n-fold and Angle/Tap among others. These better systems can keep spills and moisture from seeping to the subfloor for up to days at a time.
Glue Down luxury vinyl is mainly used in commercial and is ultra-durable, installed in strips and glued to the subfloor. It comes in 2 – 4 mm thickness, has 12 – 30 mil wear layers but more subfloor prep is required than the other formats. It will telegraph if the subfloor isn't prepared correctly. One advantage it has over other formats is that if one plank is damaged, it can be removed and replaced easily.
Loose Lay is a luxury vinyl format that can be installed without glue or locking system. The planks literally just lay side by side. It sounds crazy but most have a grippy rubber backing and with weight and friction, they remain in place the same as any other floor. Adhesive is required in some instances.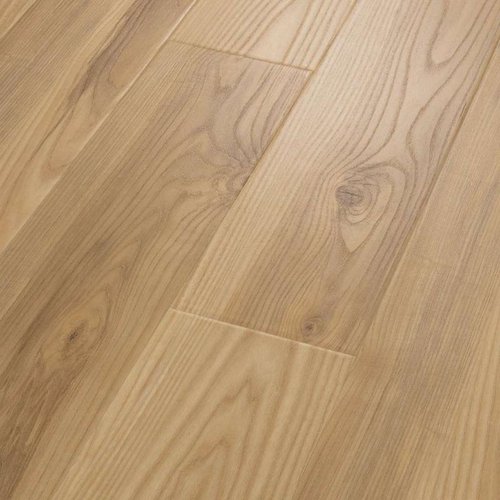 The Layers
WPC, SPC and Mineral Core rigid core flooring are made most often in four layers. Rigid core floors are made with several layers including the attached underlayment, the core, the pattern or print layer and the wear layer. Sometimes there is an additional coating added to help prevent scuffs and scrapes or additional vinyl layers for added rigidity and dimensional stability.
Recent Innovations
ANTIMICROBIAL PROTECTION
Some luxury vinyl flooring is treated with antimicrobial technology that deters the growth of microorganisms that come in contact with its surface.
EMBOSSED-IN-REGISTER TEXTURE
EIR Embossed-in-Register textures follow the wood grain and add realism.
NATURAL BEVELS
A natural bevel extends into the grooves of the luxury vinyl planks and provides even more realism.